I always wondered when the day would come that I would happen upon the sight of one of my children cutting their own hair. It seems inevitable that this self haircut is going to happen at some point in a child's life. I just imaged scissors rather than hair clippers being involved in the scenario.

Yes, Daddy left the cordless clippers out and little hands discovered them. I couldn't even scold him. Those big "deer in the headlights" eyes staring up at me, knowing he was caught redhanded was more than I could stand.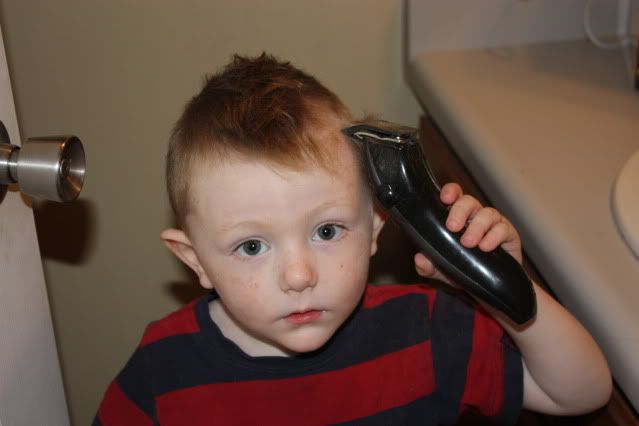 That's not all, throughout the remainder of that day, Ashton managed to spill 2 glasses of milk, pull the shoelaces out of every laced shoe we own, pump every last gooey bit of hand soap from the bottle into the fishtank and stuff cheddar cheese through the windows of every hot wheels or matchbox vehicle he owns..then made me get it all out with a toothpick. For this, I SIGH. I turned off my computer the next day..pictures can wait..clients can wait. My Ashton needed some attention.

*afternote. Yes, our 3 fish are now dead.